IQ – high quality grain sorting for laboratory use
BoMill's proprietary, high precision, grain quality sorting technology makes it possible to identify, analyse and sort each individual kernel in a batch of grain. The IQ grain quality sorter is a laboratory machine with the capacity to analyze each kernel using NIT and sort them in accordance with their chemical composition into six quality fractions.
Grain sorting for product development
The IQ grain quality sorter can be used by plant breeders when looking for specific traits as protein, hardness, starch etc. It can also be used for improving the seed by sorting out diseased or infested kernels in order to have a sound and healthy lot of seeds used for propagation or official tests. The IQ grain quality sorter is ideal for the grain research lab or a product development lab in a flour mill or malt house or complement to the TriQ, where an easy and small scale way is needed to verify possibilities for doing a large scale sorting with the TriQ quality sorting technology.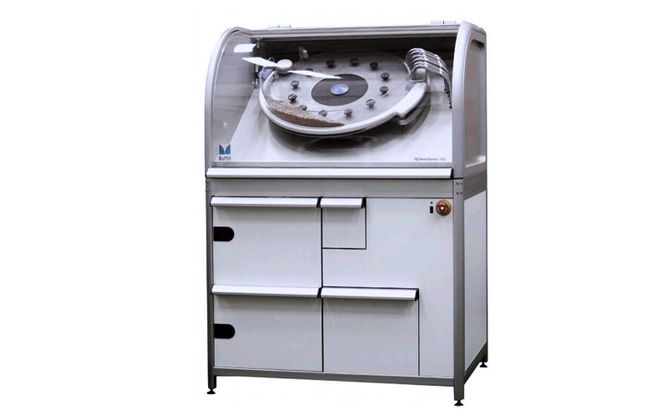 Specifications
Electrical power supply:

110 / 230 V
Internet / Ethernet connection to control PC,

(not included)
Dimensions (height x width x depth):

approx. 1220 x 860 x 620 mm, 4´ 0"1/32 x 2´ 9"55/64 x 2´ 0"13/32
Weight:

approx. 150 kg
Diameter of singulator:

550 mm
Number of sorting channels:

1
Sorting capacity:

approx. 1000 kernels per minute, based on barley and wheat
Number of sorted quality fractions:

6
Detector:

NIT detector
Air supply
High-pressure air quality based on the standard:

ISO 8573-1
Maximum particle size: class 5:

40 microns
Maximum particle density: class 5:

10 mg/m3
Maximum dew point: class 3:

-20 deg Celsius
Maximum oil concentration: class 3:

1 mg/m3
Operating pressure:

6 bar
Consumption:

approx. 30 l/min
Operating conditions:

indoor climate 0-35 deg Celsius, normal humidity