TriQ – process capacity grain quality sorting
BoMill's proprietary, high precision, grain quality sorting technology, makes it possible to analyse and identify, at industrial speed, each kernel in a batch of grain and sort them into quality fractions.
Grain quality sorting for industrial use
BoMill's TriQ technology is easily integrated into your process line, analyzing and sorting every single kernel of an entire lot according to quality.
The detector analyzes the quality of each individual kernel by using NIR technology in transmittance mode. It uses light to assess the inside of the kernel 8 to 10 times before determining which fraction it belongs to. Ejectors and containers facilitate up to three different quality fraction separations during a single run.TriQ is suitable for large scale sorting in process capacity. The speed is fully compatible with the needs of industrial grain handling
The graphical user interface makes it possible to control the sorting.
TriQ is built using high-quality standard components with well-documented histories.
its modular design ensures high reliability and easy installation to run 24/7 in industrial environments.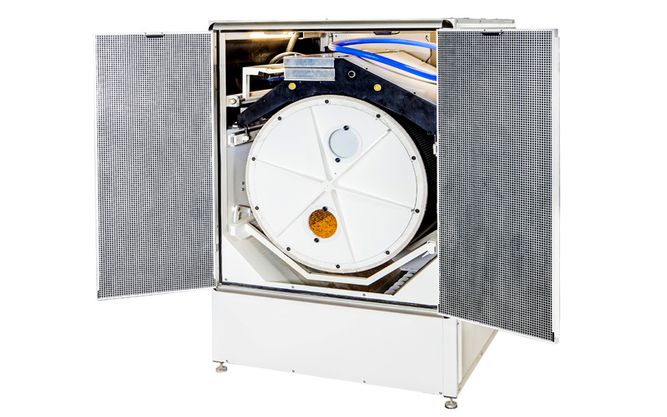 Specifications
Dimensions (height x width x depth):

1800 x 1200 x 1750 mm, 5´ 10" 55/64 x 3´ 11"1/4 x 5´8" 57/64
Weight:

approx. 1000 kg
Number of sorting channels:

96
Sorting capacity: Up 3 tons/hour, based on barley and wheat with TKW 45 gram
Number of sorted quality fractions:

3
Grain / Raw material to be processed:

Durum wheat / Soft wheat / Barley, fine-cleaned
Detector:

TriQ NIT detector
Electrical power supply:

3/PEN AC 50 Hz 400V
Power consumption:

2,5 kW
Energy consumption:

approx. 4 kWh/ton
Air supply
High-pressure air quality based on the standard:

ISO 8573-1
Maximum particle size:

class 5: 40 microns
Maximum particle density:

class 5: 10 mg/m3
Maximum dew point: class 3:

-20 deg Celsius
Maximum oil concentration:

class 3: 1 mg/m3
Operating conditions:

indoor climate 0-35 deg Celsius, normal humidity